Monaco Apartments

Monaco Apartments
Monaco apartments are some of the most wanted apartments in the entire world. Monaco, also known as the Principality of Monaco, is a small sovereign city-state located on the Côte d'Azur in the South East of France between the beautiful city of Nice, France and Italy. You will find Monaco apartments for sale but also to rent.
Monaco is the second smallest country in the world, with only 2.02 sq km (0.78 sq mi). Monaco is divided into several geographical sections: Monaco-Ville (Rock of Monaco), Monte Carlo, La Condamine, Fontvieille, Moneghetti, Larvotto, La Rousse, Saint Roman, Saint Michel, La Colle and Les Révoires. The five traditional quarters being Monaco-Ville, La Condamine, Monte Carlo, Fontvieille and Moneghetti…
Monaco has a resident population of approximately 35,000. About 20 percent of the population is Monégasque, the other part of thepopulation being a cosmopolitan mix of French and Italian, but also British, American, Canadian, Russian, Australian, South African… Monaco has actually achieved a reputation of serious business center and ideal location of residence for families wanting to live in a very safe and accessible environment with highly sophisticated facilities, a temperate climate and favorable taxation system.
Monaco apartments are in very high demand all year round, as Monaco's weather is known as one of the best climates in Europe. Though indubitably built-up, the city still enjoys several parks and beaches. Monaco apartments are also very popular because Monaco is known as one of the safest places in the world. Monaco has indeed the largest police force and police presence in the world on both per-area basis and per capita basis. Many of the Monaco apartments have 24-hour security and concierge.
Monaco Apartments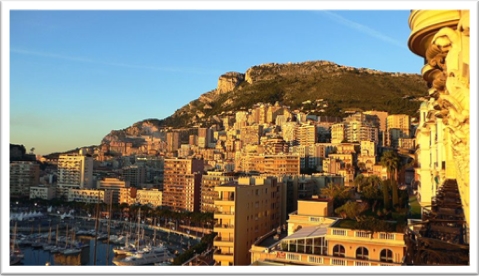 Port Hercules
Even though French is the official and most used language, Italian and English are widely spoken and understood both in everyday life and business. English is actually the preferred foreign language for kids in the highly rated Monégasque schools and is a predominant language in Monaco's International School. The Principality of Monaco legislates internally in regards to all matters of taxation: the city-state has chosen not to adopt any income tax, withholding tax legislation and capital gains tax. This is truly great news for anyone wanting to purchase Monaco apartments for rental purposes or for a long-term home
Monaco is famous for several sport and entertainment events including the Monaco Grand Prix (Formula One), Monte Carlo Rally, Festival International du Cirque de Monte Carlo among many others. Monaco is also known for its professional football team: the AS Monaco FC, which is in the French first league since 1954. Other attractions include of course the Monte Carlo Casino, Prince's Palace and Oceanographic Museum.
The Monte Carlo Casino is the most notable tourist attraction of Monaco. The complex is a gambling facility located in Monte Carlo and also include an opera and ballet house. The Prince's Palace is the official residence of the Prince of Monaco and is located in Monaco-Ville. Finally, the Oceanographic Museum is a museum of marine sciences, also located in Monaco-Ville.
Monaco Apartments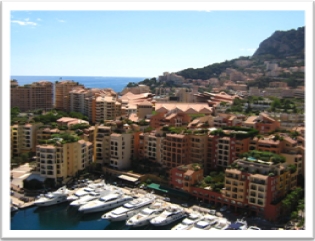 Fontvieille

View Monaco in a larger map